BOTOX Cosmetic® is an FDA-approved injectable treatment to temporarily improve the appearance of dynamic expression lines and wrinkles, such as frown lines, forehead lines, and crow's feet.
BOTOX® is a type of neuromodulator, which works by temporarily relaxing the facial muscle contractions that lead to dynamic expression lines, which can become permanent over time. Often considered a "lunchtime procedure," BOTOX® does not require downtime following injections, so you can expect to be able to return to work and other normal daily activities directly after your appointment.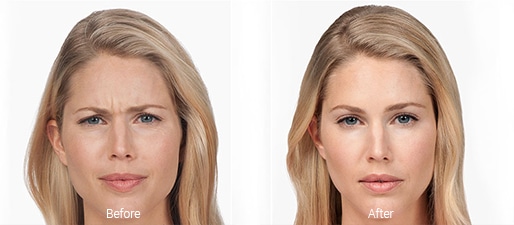 After treatment, you might experience some swelling, redness, bruising, minor discomfort, or tenderness. These symptoms are typically mild in severity and should diminish on their own over the next few days. In the first 24 hours after BOTOX® injections, you can apply an ice pack to the treated area to help reduce any swelling.
Once these symptoms diminish, you will see your final results develop, revealing your smoother, younger look.
Over the next three to four months, your results will gradually fade, restoring your natural look. To maintain the same smooth results, it's recommended that you schedule regular BOTOX® appointments with your New York dermatologist. Because each treatment session typically takes less than 20 minutes, however, many people find that their BOTOX® appointment is easy and convenient to fit into their schedules.
Frequently Asked Questions
What exactly does Botox do?
Is Botox safe for your face?
At what age should you start getting Botox?
How bad does Botox hurt?
What are the 3 areas for Botox?
What should I know before getting Botox?
What should you not do after Botox?
How should I sleep after Botox?
Does Botox make you look older after it wears off?
Why does Botox take 2 weeks to work?